Main content starts here, tab to start navigating
Menus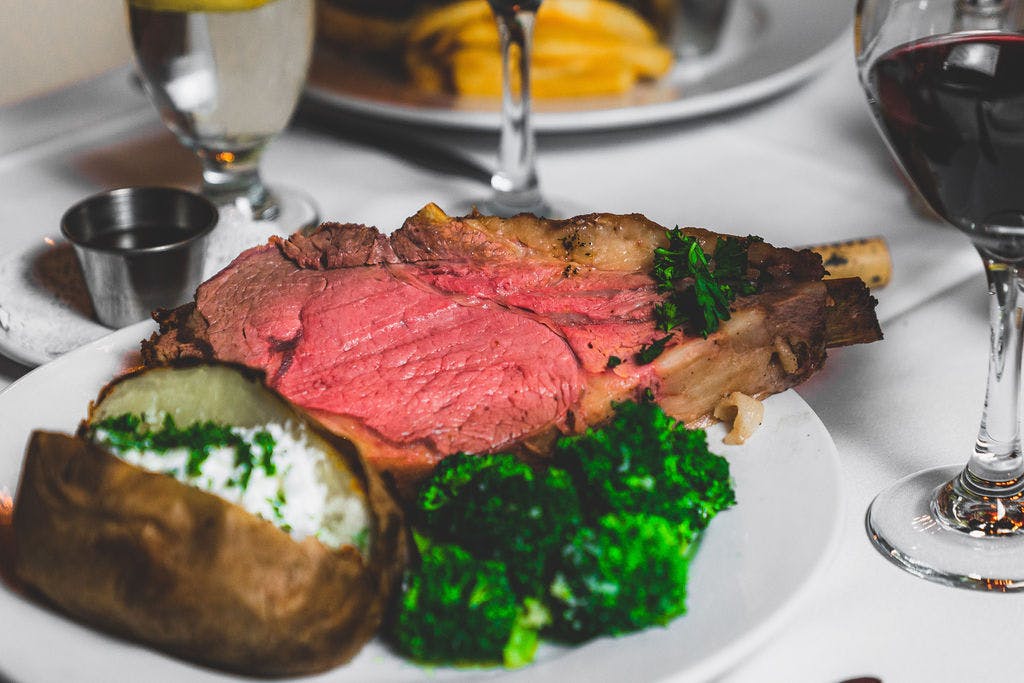 Slide 1 of 9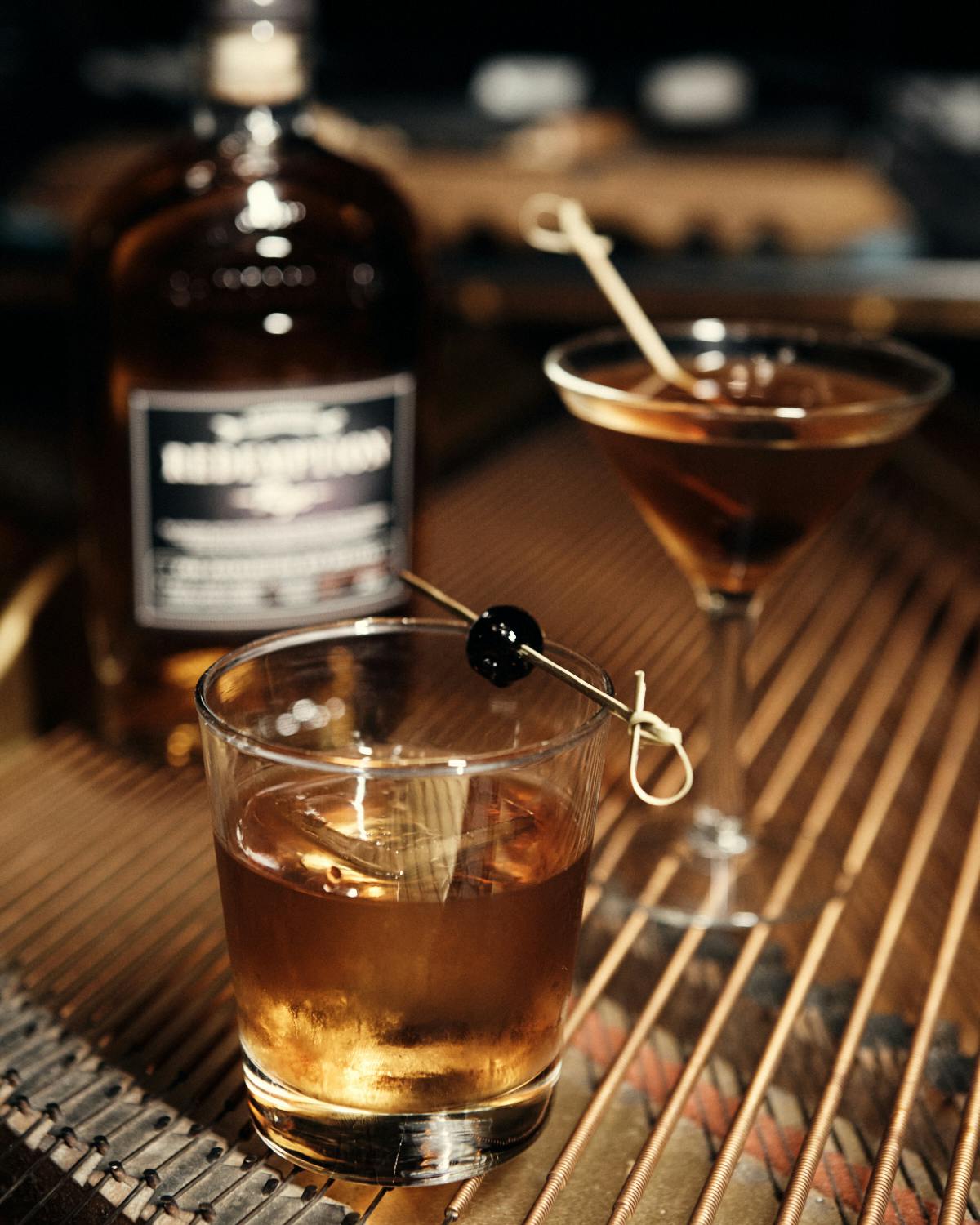 Slide 2 of 9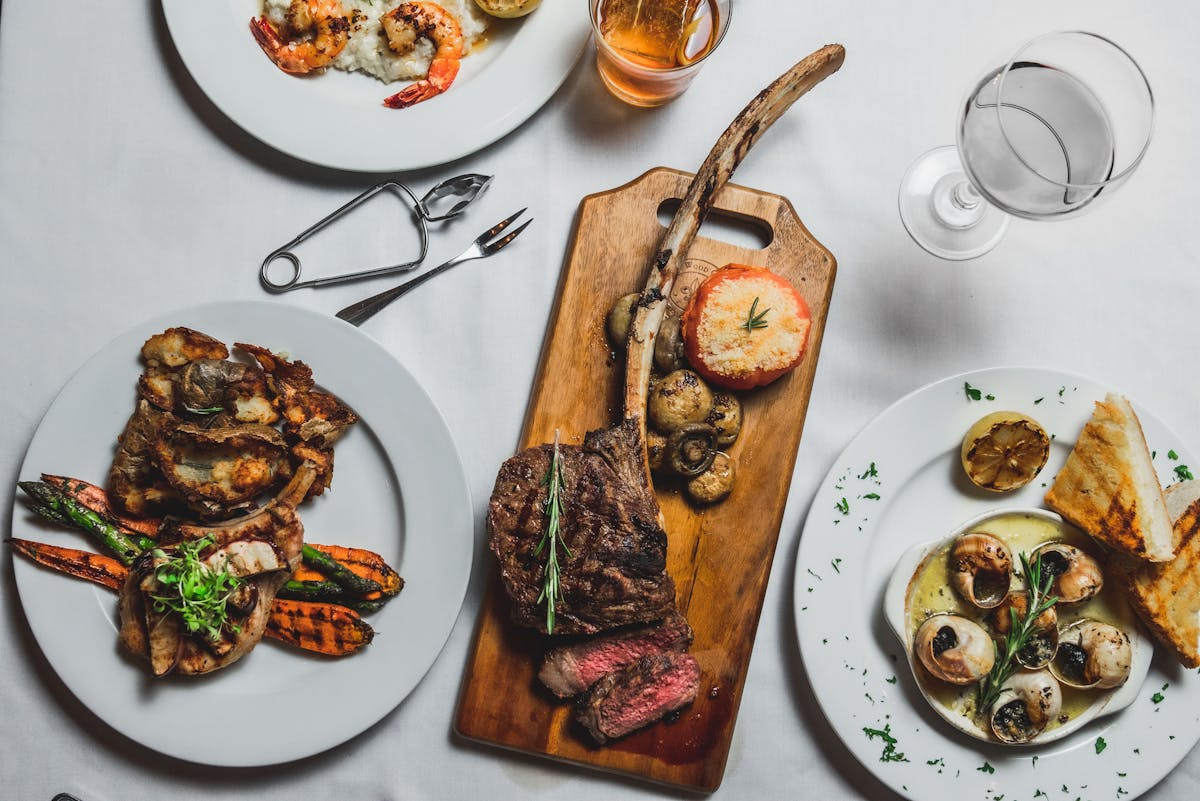 Slide 3 of 9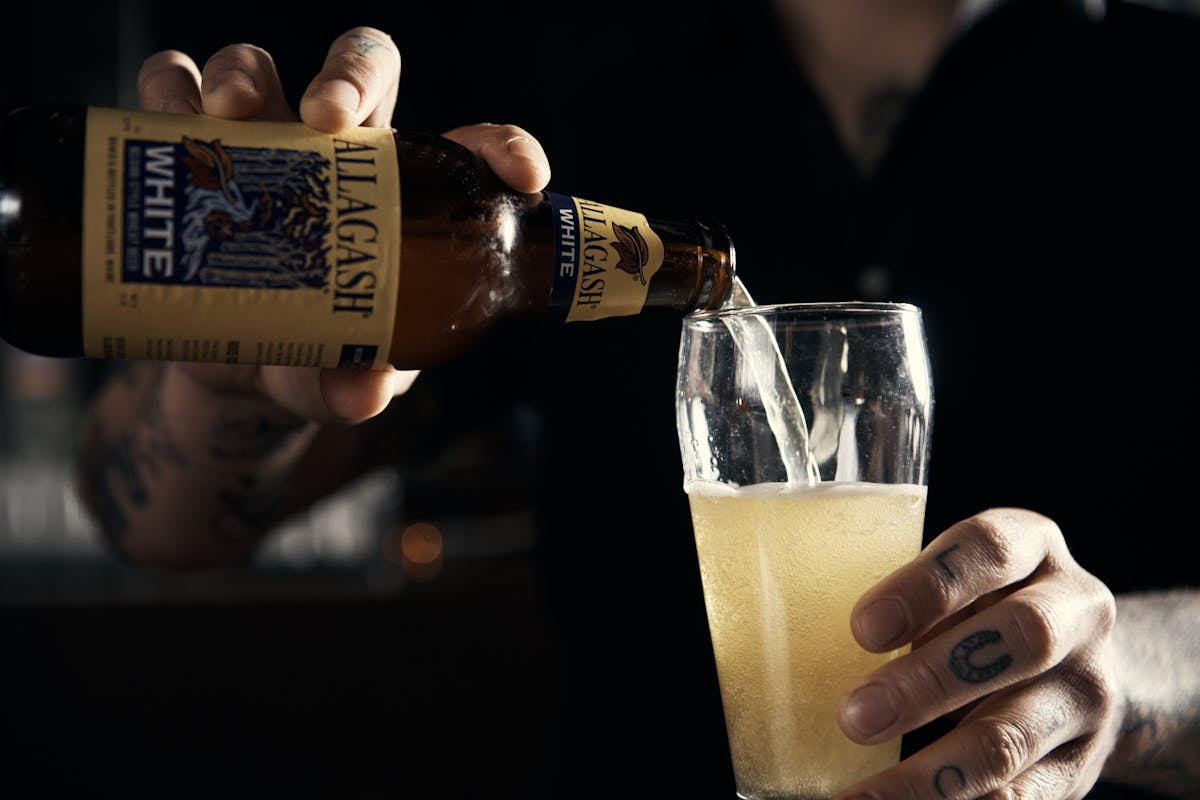 Slide 4 of 9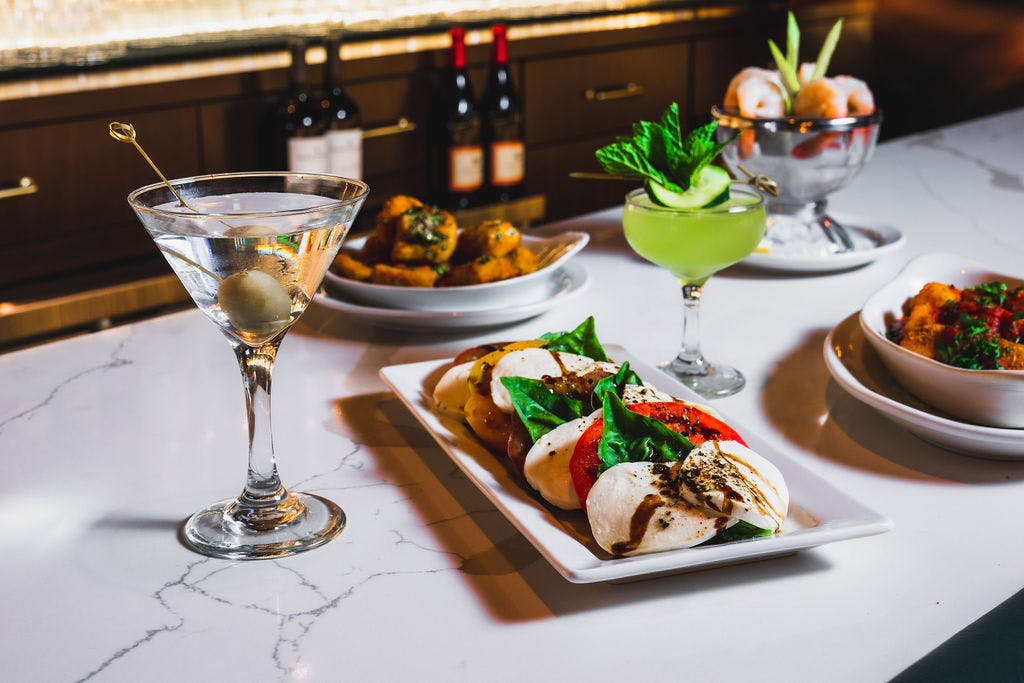 Slide 5 of 9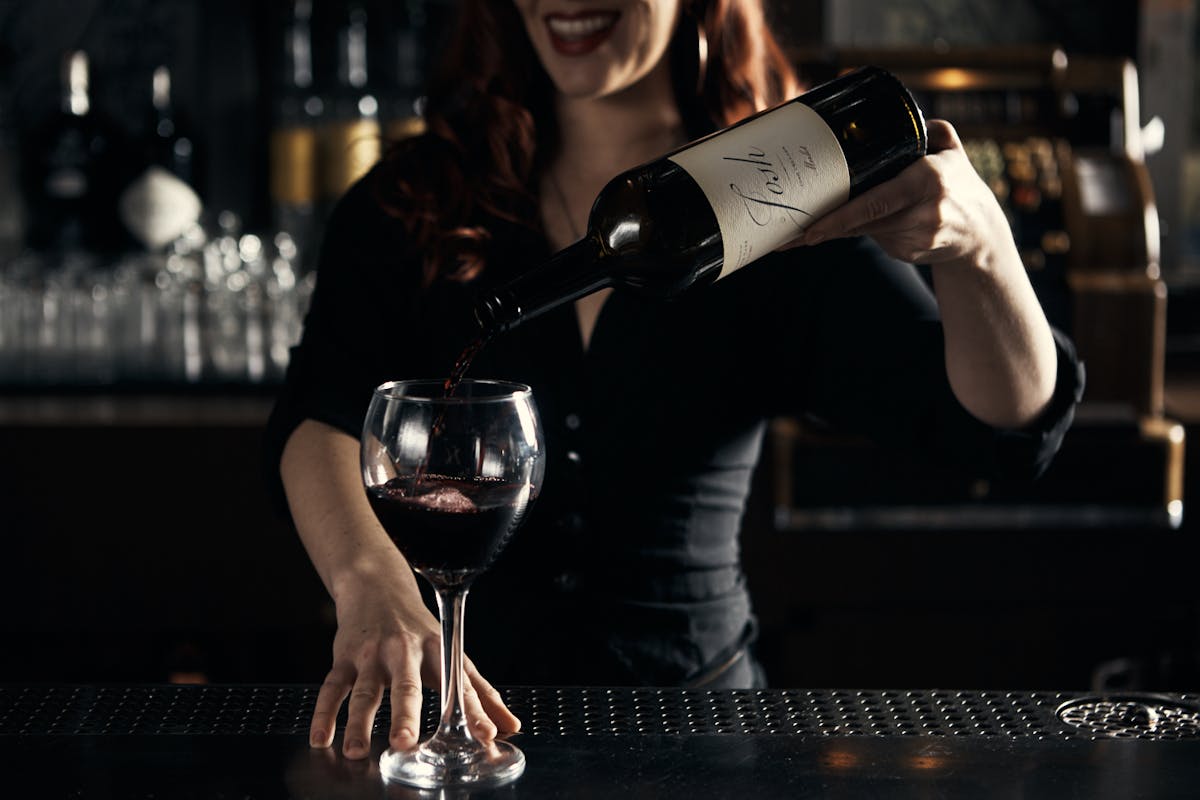 Slide 6 of 9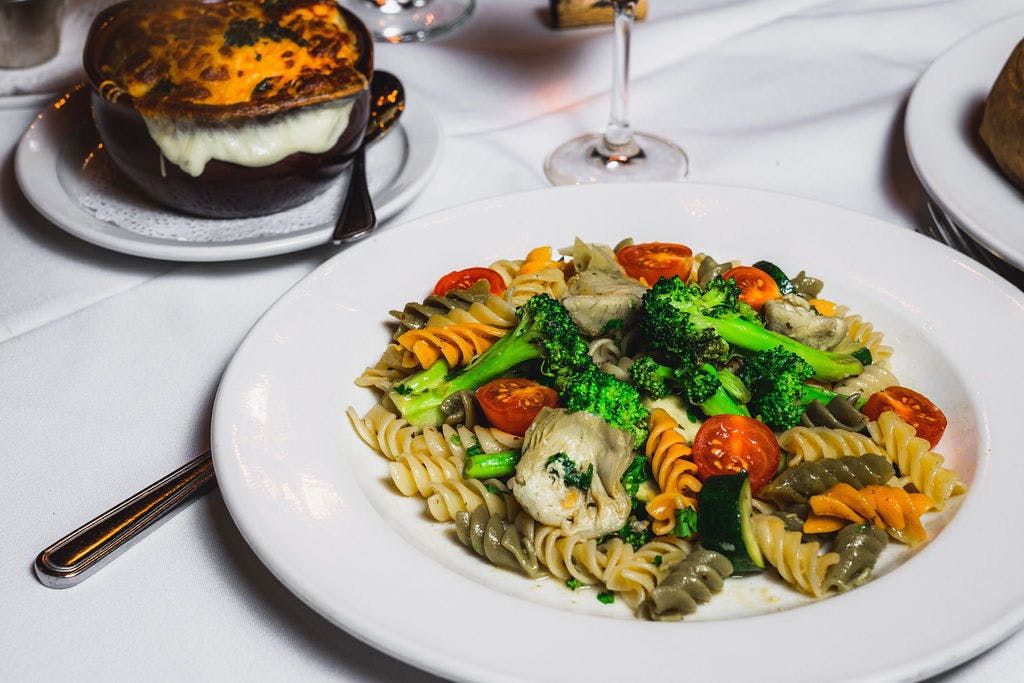 Slide 7 of 9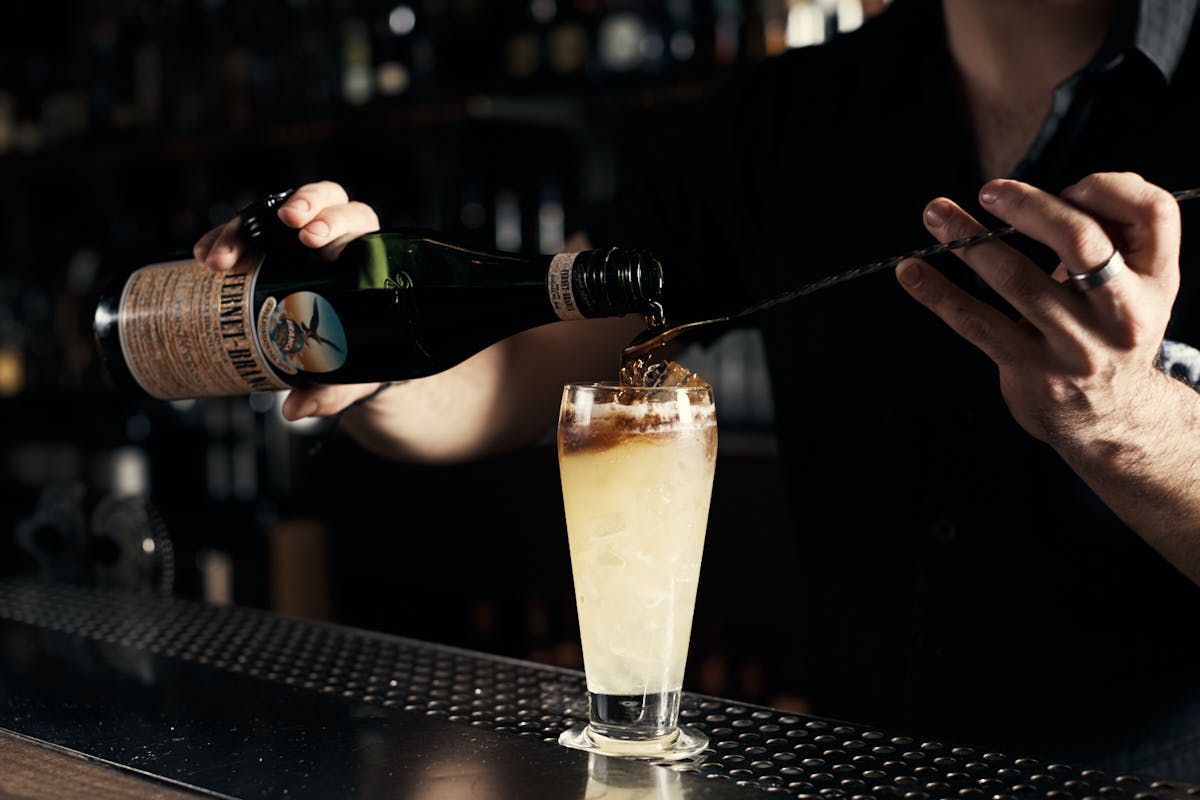 Slide 8 of 9
Slide 9 of 9
Wednesday - Saturday | 5pm to 9:45pm
Sunday | 5pm to 9:30pm
Soup & Salad
French Onion Soup

$9

Soup of The Day

$7

House Salad

choice of dressing

$9

Iceberg Wedge

iceberg lettuce, cherry tomato, blue cheese crumble, bacon, blue cheese dressing

$15

Caprese Salad

heirloom tomato, basil, buffalo mozzarella, olive oil, balsamic, fresh cracked pepper

$16
Starters
Calamari Fritti

crispy golden rings and tentacles served with house-made cocktail sauce

$18

Sautéed Mushrooms

sautéed in olive oil, with salt, pepper, and pearl onions

$15

Shrimp Cocktail

six jumbo shrimp served with house-made cocktail sauce

$18

Escargot Bourguinonne

over baked escargot served over white wine garlic sauce with bread

$18

Mozzarella Marinara

hand breaded mozzarella over marinara

$16

Crispy Artichoke Hearts

hand breaded baby artichoke, garlic-butter sauce

$16

Caesar Salad

$15

chicken breast $6
Pasta
add chicken breast +6, meatballs +7, shrimp & broccoli +8
Rigatoni w/ Meat Sauce

tomato sauce simmered with ground beef, onion, garlic

$22

Penne alla Arrabiatta

spicy pomodoro sauce, garlic, parsley

$22

Lasagne

three-layer lasagne, baked baked with ricotta cheese and topped with bolognese

$24

Roasted Eggplant Fettuchini

olive oil, garlic, and a touch of marinara, served with chopped roasted eggplant, cherry tomatoes, and burrata

$22

Cacio e Pepe

buccatini, pecorino, parmesan, cracked black pepper, butter

$23
Steaks & Chops
We proudly feature Certified Angus Beef for all meat cuts.
Filet Mignon

hand-cut 9oz served with choice of mashed or baked potato, seasonal vegetables, and Béarnaise sauce

$46

New Zealand Rack of Lamb

seasoned with rosemary and served with new potatoes, parmesan-roasted half-tomato, and mint jelly

$36

Prime Rib of Beef

our World Famous Speciality for over 65 years. Served with choice of mashed or baked potato, seasonal veggies, and au ju

Regular Cut $42

Bone-in Extra Cut $50

New York Strip & Frites

hand cut, 10oz served with steak fries and seasonal veggies

$38

32oz Tomahawk

hand carved, bone-in ribeye. Served with mashed potatoes, parmesan-roasted half0tomatoes, button mushrooms, and seasonal vegetables

$118

Spiced Apple Pork Chop

bone in- 10z topped with grilled cinnamon-dusted apple slices. served with a crispy smashed potato and roasted seasonal vegetables

$32

Ribeye Au Poivre

12oz Creamy peppercorn sauce with mushrooms, over mashed potatoes and asparagus

$40

Chateaubriand

20oz tenderloin, hand carved tableside Served with mashed potatoes, parmesan-roasted half0tomatoes, button mushrooms, and seasonal vegetables

$125
House Specialties
Garlic Butter Salmon

wild caught, sautéed in garlic and butter. Served with mashed potatoes and asparagus

$32

Half-Roasted Chicken

Jidori brand, free-range organic chicken, seasoned, pan roasted, and broiled. Served over wild rice, topped with sauteed cherry tomatoes and pearl onions. *please allow up to 20mins for preparation*

$30

Chicken Piccatta

sautéed in white wine, lemon, & butter, served with zucchini, mushrooms, capers, and a side of linguini

$27

Shrimp Scampi con Risotto

jumbo shrimp served with creamed risotto, topped with scampi sauce

$28

Eggplant Parmigiana

freshly sliced, panko-crusted eggplant, layered over mozzarella and parmesan. Served over marinara and fresh basil

$25

Veal Marsala

sautéed in Marsala wine, served with artichoke hearts and mushrooms over mashed potatoes

$30

Grilled Trout Almondine

whole fish butterflied. finished in browned butter, white wine and lemon. Topped with brown sugar roasted almonds, and served with seasonal vegetables and potatoes

$31

Cauliflower Bolognese Stuffed Bell Peppers

roasted bell peppers stuffed with bolognese-style cauliflower and wild rice, topped with melted mozzarella and basil.

$26
Side Dishes
Baked Potato

$7

Mashed Potatoes

$7

Steak Fries

$7

Sautéed Vegetables

$7

Long Grain Wild Rice

$6

Linguini w/ Marinara

$8

Creamed Risotto

$9

Meatballs (2)

$8

Grilled Broccolini

$8

Crispy Smashed Potato

$9
Served in the Lounge and Patio
Wednesday & Thursday | 5pm to 10:30pm
Friday & Saturday | 5pm to 11:30pm
Sunday | 5pm to 9:45pm
Soup & Salad
French Onion Soup

$9

Iceberg Wedge

iceberg lettuce, cherry tomato, blue cheese crumble, bacon, blue cheese dressing

$15

Caprese Salad

heirloom tomato, basil, buffalo mozzarella, olive oil, balsamic, fresh cracked pepper

$16

Caesar Salad

$15

chicken breast $6
Sandwiches
served with steak fries sub salad or fresh vegetables +2
Ribeye Steak Sandwich

Onion rings, tomato, arugula, dijon aoli, open faced on sourdough baguette

$20

Prime Rib French Dip

Our world famous Prime Rib, au jus, french bread

$19

swiss $1

Certified Angus Burger

lettuce, tomato, grilled onion, brioche bun

$18

cheese $1

Caprese Sandwich

heirloom tomato, basil, fresh mozzarella, olive oil, balsamic reduction, ciabatta

$16

chicken breast $5

proscuitto $4
Shareable
Mozzarella Marinara

hand breaded mozzarella over marinara

$16

Crispy Smashed Potatoes

grated parmesan, rosemary, side of dijon aioli

$12

Calamari Fritti

crispy golden rings and tentacles served with house-made cocktail sauce

$17

Italian Style Meatballs

w/ grated parmesan, fresh basil, & garlic bread

$16

Cauliflower Florets

hand breaded cauliflower florets, celery, buffalo, ranch

$16

Crispy Artichoke Hearts

hand breaded baby artichoke, garlic-butter sauce

$16

Baked Mac n' Cheese

penne, three-cheese blend, bread crumbs

$16

bacon $2

Quesadilla

$13

chicken $5

prime rib $7
Shareable Cont.
Shrimp Cocktail

six jumbo shrimp served with house-made cocktail sauce

$17

Thick-Cut Steak Fries

topped w/ grated parmesan

$9

Prosciutto & Melon

cantaloupe, prosciutto, shaved parmesan, micro cilantro, balsamic reduction

$16

Sautéed mushrooms

sautéed with pearl onions in olive oil, salt, pepper

$14

Garlic Bread

served with olive oil and balsamic

$5
Stirred
Old Fashioned

bourbon, sugar cube, Angostura bitters, expressed orange peel

$16

Manhattan

Redemption Rye, house sweet vermouth, Angostura bitters

$16

Negroni

gin, Campari, house sweet vermouth, expressed orange peel

$16

Sazerac

Redemption rye, Merlet VS, Peychaud's & Angostura bitters, sugar cube, absinthe rinse, expressed lemon peel

$16

Vesper Martini

gin, vodka, Lillet Blanc, expressed lemon peel

$16

Vieux Carre

Redemption Rye, Merlet VS, house sweet vermouth, Benedictine, Angostura & Peychaud's bitters

$17
Shaken
French 75

gin, lemon, simple syrup, topped w/ champagne

$16

Sidecar

Merlet Cognac VS, house curaçao, lemon, sugar rimmed glass

$16

When in Rome

Limoncello, Galliano, strawberry, prosecco, splash soda, basil

$15

Margarita

tequila blanco, house curaçao, lime, agave

$16

Hemingway Daiquiri

rum, Luxardo Maraschino Liqueur, grapefruit, lime

$16

Corpse Survivor No. 2

gin, Lillet Blanc, house-curacao, lemon, absinthe rinse

$16

Dark & Stormy

Gosling's dark rum, ginger, lime, soda

$16
Spritz
Aperol Sprtiz

Aperol, prosecco, soda water

$14

Negron Sbagliato

Campari, house sweet vermouth, prosecco

$14
The Signatures
The Dresden's Blood & Sand

featured at the Dresden Room for over 65 years. Rum, house tropical mix, citrus, blended

$15

Texas Maid

Tito's Vodka, cucumber, mint, lime, hint of elderflower

$16

Whiskey Fix

Four Roses Bourbon, pineapple, lemon, grated cinnamon, fresh berries

$16

Y Tu Mama Tambien

Teremana Blanco, Ilegal Mezcal, spiced ginger, lime, Lo-Fi hibiscus spritz

$17

Fernetting Sarah Marshall

Plantation 3 Star Rum, dry curaçao, passionfruit, pineapple, lime, grapefruit bitters, Fernet Branca float, & grated cinnamon

$17

Black Velvet

Nolet's Gin, Luxardo Bitter Bianco, lavender water, blackberry, lemon oil

$16

Espresso Martini

Copalli Cacao Rum, St. George Coffee Liqueur, cold brew concentrate, hint of vanilla and cacao

$17

It's A Mezcal World, Aperol

Ilegal Joven Mezcal, Aperol, grapefruit, lime, ginger, bitters float

$16
Seasonals
When in Rome

Limoncello, Galliano, strawberry, prosecco, splash soda, basil

$15

Almost Famous

Vodka, Yellow Chartreuse, muddled raspberry, hint of peach, topped w/ sparkling lemonade

$17

Black Rose

El Tesoro Blanco, Amaro Angeleno, prickly pear, pamplemousse, hint of spice, black salt

$16

White Lotus

Malfy Italian Dry Gin [mango infused], Luxardo Bitter Bianco, Italicus, passionfruit aromatics

$17

Bramble On

Dickle Bourbon, creme de mure, blackberry, honey bitters, mint

$16

Mama Coco's Negroni

Madre Mezcal [coconut washed], Strawberry-Infused Campari, Averna, toasted coconut rimmed glass

$17

HUI HUI

Kulueana Blended Rum, Copalli Cacao Rum, guava, banana, lime. shaved dark chocolate

$17
Non-Alcoholic Libations
Cool as a Cucumber

Q Elderflower Tonic, cucumber, lime

$10

Strawberry Lemonade

Sicilian Sparkling Lemonade, strawberry juice, lemon

$10

Pineapple Dream

Lyre's Cane Spirit, ginger beer, pineapple, lemon, lime *non-alcoholic spirit used(

$12

N/A Aperol Spritz

Lyre's Amalfi Spritz *nonalcoholic spirits used*

$12
Sparkling & Champagne
Prosecco, Brut 187ml - Mionetto

Treviso, "Prestige Collection", Veneto, Italy

$13

Blanc De Blancs, Brut 187ml - Charles de Fere

"Cuvée" Jean-Louis, France

$14

Rosé, Brut - 187ml Le Grand Courtâge

"Grand Cuvee", France

$13

Brut, - Nicolas Feuillatte

"Cuvée Gastonomie Réserve", Champagne, France [btl]

$64

Brut, - Veuve Clicquot

"Grand Brut", Champagne, France [btl]

$117
Rosé
Rosé, Dry "Whispering Angel", Château d'Esclans

Côtes de Provence, France, 2020

Glass $16

Bottle $58
White - Sweet & Off-Dry
Riesling, Chateau Ste. Michelle, "Cold Creek Vineyard"

Columbia Valley, Washington, 2018

Glass $13

Bottle $45
White - Light Intensity
Sauvignon Blanc, Dashwood

Marlborough, New Zealand, 2020

Glass $14

Bottle $49

Sauvignon Blanc, Charles Krug

Napa Valley, California, 2020

Glass $15

Bottle $51

Pinot Grigio, Terlato

Friuli Colli Orientali, Friuli, Italy, 2019

Glass $15

Bottle $51
White - Medium to Full Intensity
Chardonnay, Antinori, "Bramito della Sala"

Umbria, Italy, 2018

Glass $15

Bottle $51

Chardonnay, Kenwood Vineyards, "Six Ridges"

Russian River Valley, California, 2018

Glass $16

Bottle $56
RED - Light Intensity
Pinot Noir, - Weather

Sonoma Coast, California, 2018

Glass $15

Bottle $51

Pinot Noir, - Davis Bynum

Sonoma Coast, California, 2017 19/67

Glass $18 per gls

Bottle $65 per btl
RED - medium Intensity
Chianti Classico, - Antinori, "Pèppoli"

Tuscany, Italy, 2017 14/49

Glass $16

Bottle $58

Merlot, - Josh Cellars

California, 2017

Glass $14

Bottle $49

Red Blend, - "Unshackled" by The Prisoner Wine Company

California, 2019

Glass $17

Bottle $60

Red Blend, - Antinori, "Tenuta Guado al Tasso Il Bruciato"

Tuscany, Italy, 2018

Glass $18 per gls

Bottle $66 per btl
RED - FULL Intensity
Malbec, - Terrazas de los Andes, "Reserva"

Mendoza, Argentina, 2018

Glass $15

Bottle $51

Cabernet Sauvignon, - Serial

Paso Robles, California, 2018 14/49

Glass $15

Bottle $51

Cabernet Sauvignon, - Scattered Peaks

Napa Valley, California, 2018 19/70

Glass $19 per gls

Bottle $70 per btl
805

Light Ale

$8

Allagash White

Belgian-Style Wheat

$8

Amstel Light

$7

Anderson Valley Boont

Amber

$8

Ballast Point Sculpin

IPA

$8

Bud Light

$7

Budweiser

$7

Chimay Blue Label

Belgian Dark Ale

$12

Guinness

Stout

$9

Lagunitas

IPA

$8

Modelo Especial

Lager

$8

Peroni

Lager

$8

Sierra Nevada

Pale Ale

$8
Assorted Cakes and Tarts
a la mode | $2